Production Logging Service Vertical Wells
Production Logging Service by North Side comprises a standard wellbore-oriented PLT as wells as Reservoir Performance Evaluation technology focused on processes behind casing or liner, deep into formation. Well-Reservoir Performance Evaluation Technology is designed to locate channellings behind casing, thief injection and production zones, formation flow, evaluate performance of completion elements, OH packers, frac job efficiency.
WRPE employs High Precision Temperature Tool and Technology, Split Channels Spectral Noise Logging as well as standard tools and modules for depth correlation and fluid phases identification.
Main advantage of WRPE technology and service North Side company provides is Spinnerless flow profiling where production or injection profile across pay zone constructed using temperature modelling technology.
VERTICAL WELLS WRPE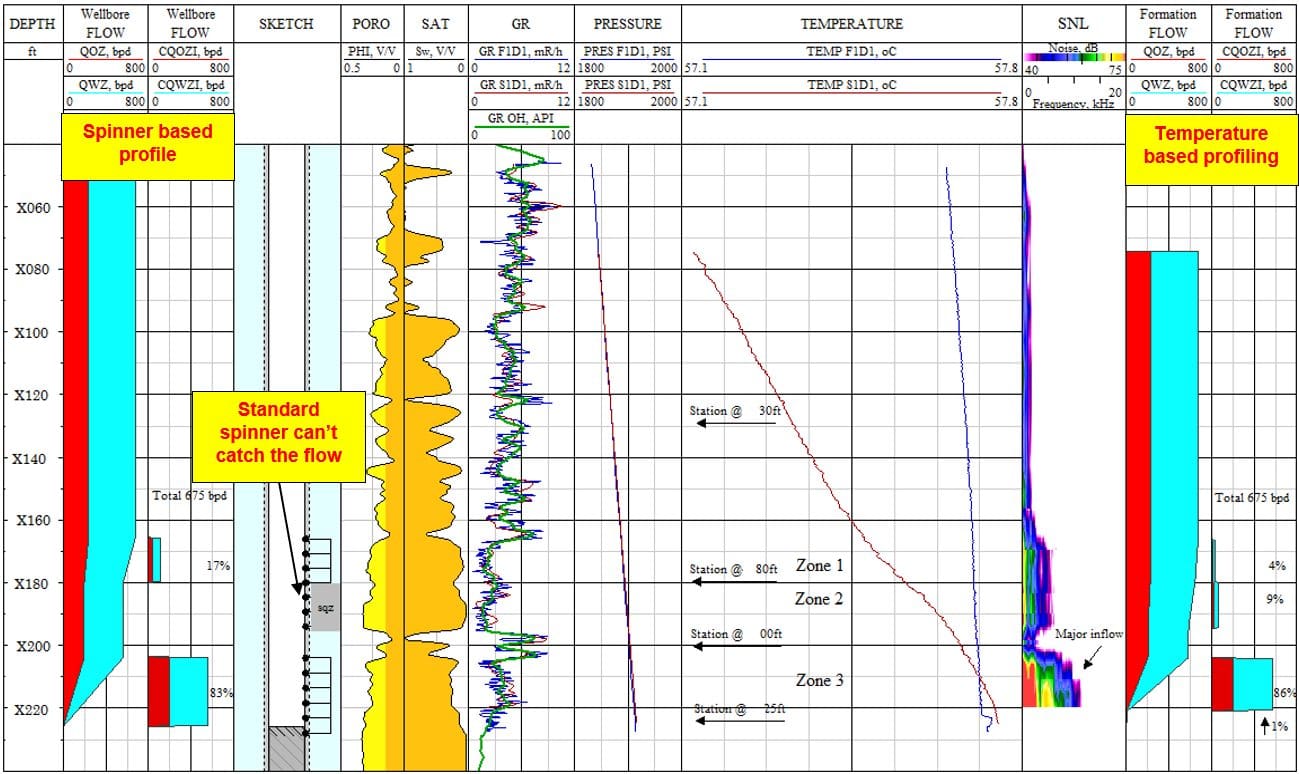 Key findings from Spinner-based profile (left part of slide):
Spinner based flow profiling was not able to detect leak from squeezed part of upper perforation interval inspite advanced sensitivity of North Side FBS.

Spinner was not able to catch flow from leaking cement plug because it was beyond its threshold. This is well known limitation of spinners.
Key findings from Temperature Modelling and SNL based profile (right part of slide):
Leak from second half of upper perforation interval as much as 9% of total flow.

Leak from cement plug as much as 1% of total flow

.
Summary: HPT and SNL based production profile helped to evaluate reservoir performance as well as fine-tune production profile across peroration intervals and evaluate integrity of previous cement job. Spinner based profile helped to understand "big picture" and verify at some extend Spinnerless production profiling technology.
Spinnerless production profiling